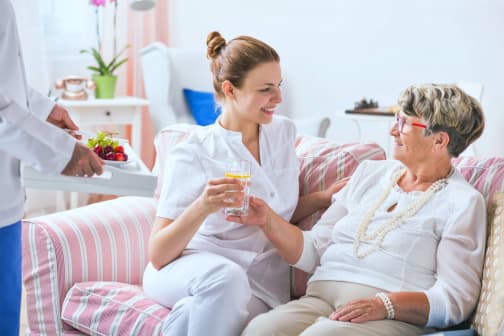 Compared to their younger counterparts, aging adults are more sensitive and susceptible to skin diseases due to them being prone to skin dryness. Aging skin hardly ever produces natural oils; therefore, seniors may end up with a variety of problems with their skin, like dermatitis and eczema, without a proper skincare routine.
Having a skincare routine is part of a senior's personal care needs. Aside from drinking plenty of water, seniors can benefit from applying lotion and moisturizers to their skin daily because these products have the right ingredients to prevent their skin from becoming dry. It also adds protection from the sun, especially if they contain SPF.
If they are to choose the kind of skincare products to use, it is helpful to select the ones that are mild without strong fragrances. Otherwise, it may result in skin irritation. It also helps if they consult with their doctor or a skin specialist regarding the matter.
If you need someone to assist your senior loved one with their skincare routine at home, you can hire a caregiver for in-home care in Missouri. A caregiver can make sure that they drink eight glasses of water daily and shop for suitable skincare products for their skin.
For inquiries about our home care services in St. Louis, Missouri, please contact Provision Home Care Inc.