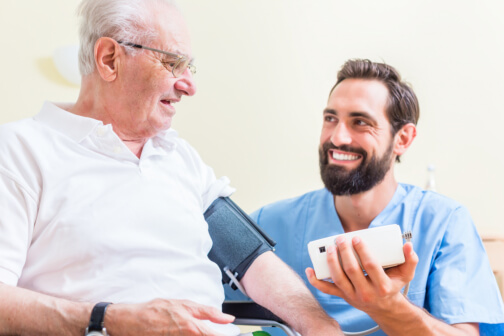 The risks of hypertension, also known as high blood pressure, increase as a person ages. Hence, for our senior loved ones at home, ensuring that their blood pressure is at the right level can be a priority. It's a very practical move to have a blood pressure monitor handy at home, or get professional providers of In-home care in Missouri so that someone can monitor your loved one's blood pressure reading.
Thankfully, you can also do something so that the risks for high blood can be reduced. Here are the steps we recommend:
Work on Keeping the Ideal Weight
Every person needs to maintain the weight ideal for their age. Gaining extra weight can trigger the increase in blood pressure. Hence, make a conscious effort to reduce your weight. If you're already at the normal range, strive to maintain the healthy weight that you already have.

Stay Active
Part of maintaining the healthy weight is exercising regularly. The active lifestyle enables your body to convert fats into energy, which are then flushed out of the body during your exercise routines. This way, exercising can help prevent the risks of hypertension.

Select Your Food Well
Fruits and vegetables are essential to provide you with the nutrients that can help reduce cholesterol, which triggers hypertension. Ensure also that your meals are balanced. Be mindful of the fats you consume (prefer plant-based over animal-based as much as possible) and stay away from processed sugar (such as soda drinks).

Reduce Salt
If you've been fond of salty foods, whether it's from processed foods or ones you cook yourself, lessen the salt ingredient. Salt contains sodium which is a key trigger of high blood pressure. As an alternative, take herbal spices instead as they can also provide unique flavoring to your cooking. You can also seek help in preparing healthy meals from providers of home care services in St. Louis, Missouri.

Always Check Your Blood Pressure
As mentioned earlier, monitoring your pressure reading is a very vital step in ensuring that you're still at the healthy range. While you maintain the healthy steps to prevent hypertension, the only way for you to know that your blood pressure is normal is through the BP reading. If you can keep a blood pressure monitor at home, this can be a ideal piece of equipment to keep.

Watch Out Your Alcohol Consumption
Having too much of alcoholic beverages in the body can also result in having increased blood pressure level. If you can lessen your alcoholic drinks in a day, you'll be contributing greatly to your overall health.
What other steps of hypertension prevention do you practice at home? These recommendations are just a few that we have also applied at Provision Home Care Inc, even as we also provide Personal care services. When you need extra hands to better monitor your loved one's blood pressure at home, our team is ready to assist. For further inquiries, contact us.