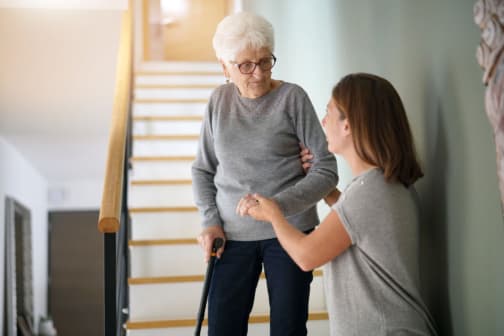 Slips and falls are some of the most frequently reported accidents in the United States and cause nearly one-third of all nonfatal injuries according to the National Safety Council. This can be particularly dangerous if you have the elderly, people with chronic illnesses, or someone recovering from surgery at home.
As a provider of home care services in St. Louis, Missouri, we make sure that the environment is safe for our patients and take necessary measures to lessen the risk of slips and falls as much as possible. Here are some tips:
Put non-slip mats in the shower and bathtub
Keep stairs, hallways, and outdoor areas well lit
Clear clutter from the floor including electric cords, throw rugs, and other trip hazards
Make sure that stairs have railings and have no damaged steps. It would be better to add non-slip strips if stairs are made of wood
Clean up food, drink, and other spills immediately
Having a personal care provider can help make sure that your house is safe from slips and falls and that your loved ones have their personal needs cared for. Come and visit us at Provision Home Care Inc. We'll make sure to provide you with excellent and genuine care within the comfort of your home.
We provide various services such as personal care, homemaking, respite care, and in-home care in Missouri.